What's Helen Been Up To?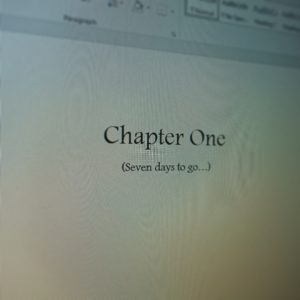 Well, where to start?
Okay, let's begin with this year's events (so far!) that I've been lucky enough to book myself a place at.  First of all, I will be attending Euro Pride Con in Berlin, June 23rd-25th.  I'm just going as a reader to this, but then the next weekend on July 1st…I'm attending the shiMMer signing event in Birmingham as an AUTHOR!  That also means I will have paperback copies of my books to sign, but more on that later…  The week after that, I will be attending London Pride for the very first time, and I can't wait to get my party on for that!
However, the most exciting event that I have confirmed a spot on, is the incredible GayRomLit (GRL) in Denver, Colorado, October 19th-22nd – EEEKKK!!! I managed to snag one of the very limited Supporting Author places, and I couldn't be happier.  I will be doing signings and have swag and might *even* get to take part in a panel. We shall see!
If you will be attending any of these events, PLEASE let me know and make sure you come over and say hi!
In other news, as I am in the final run up to my wedding (just over two weeks to go as I type this!) I got inspired to write a different book to the one I was intending to do next.  My wedding themed RomCom A Ballad of Confetti, Cake and Catastrophes should be out by April!  I'm already on Chapter Five, and have started talking to Natasha Snow about the cover.  See the "My Books" section for the blurb!
I am going to begin printing paperbacks with this release, and I will also do a run for Glitter on the Garland too.  I'm not 100% sure how these will be distributed yet – whether just via this site and at cons, or on Amazon too.  But as soon as I know, I'll let you guys know too!
Right, I best get back to writing…oh, and wedding planning!  Not much left to do now!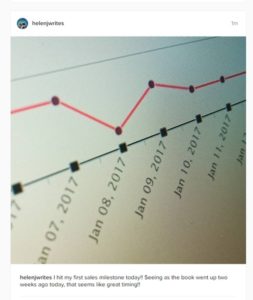 January 31st, 2017
Wow.  So, on December 31st 2016, I finally achieved my dream of becoming a published author!  I released my Christmas novel Glitter on the Garland just in time to see in the new year, and things have been going awesomely ever since!  Now available on both Amazon and Smashwords, the book has received rave reviews and 5* ratings.  Most importantly though, I've learnt so much about self-publishing, and feel a lot more confident moving forwards with the next book (or books if all goes to plan!)
I set up more social media accounts to keep in touch with readers, most notably Instagram, which I'm still getting the hang of but am enjoying immensely!  I'm @helenjwrites on there, Twitter and Tumblr.  I also set up a Facebook group for readers to interact, called Helen Juliet Books, and then obviously this website.  Please sign up and follow if you would like to be apprised of my goings on.
On Thursday 19th, I was lucky enough to have been invited to speak to my friend's troop of Girl Guides.  I led the the group of about twenty young ladies in an introductory workshop to creative writing, and I was blown away by their enthusiasm and innovation.  I hope there might be a few more budding writers amongst them now!
On Saturday 28th, I organised a London based get-together with other members of the LGBT+ fiction community, which was a total blast!  I think we're all keen to organise another one soon, so watch this space for more information.
As we go into February, I will be getting back into writing the next book with fervour.  This will be a C20th historical, coming of age/friends to lovers tale.  I had about 30K words so far, but I think that will have to be quite heavily revised.  The aim will be to publish by May, all going well.  I promise to keep you up to date with how that's going, and hopefully get the cover revealed by March/April to whet your appetite!